War camp exploiting is back, if you deny it you are blind or doing it yourself.
How the exploit works:
The way they use this exploit is simple, you have 4 characters, in 4 different guilds, outside your main guilds alliance.
You log out 1 character at each warcamp, when the camp opens, you login WITH BUBBLE AND SCHEDULE THE ATTACK UNCONTESTED, because you take 0 damage and cant be interrupted because of bubble.
So this leaves NO counter play, there is no way to defeat this, except having 10 heavys with windwall to knock them away while they are bubbled so you can schedule the attack yourself.
The solution:
1. Make this bannable, across all accounts on the same IP as the abusing account, 72 hours +.
2. Spread out the time for the war camp attacks, currently they all open at 1 AM UTC-5, this is a horrible time tbh and it should be spread out so that NA has a camp, EU has a camp, etc.
3. Remove all bubbles near ANY open world objective, this includes relic chests, war camps, and relic castles, there should be NO bubbles at any time for any reason in any of these areas. Any reason to have a bubble here is purely for exploitation. If someone logs in, inside a warcamp, they should NOT have a bubble, same for castles and near relic chests.
I would like to also add, nilfgaard could EASILY pacify these camps right? No because they are truly contested, the only way they can actually stop attacks is by abusing an account logged out at the camp and logging in with bubble.
Evidence of Nilfgaard abusing this: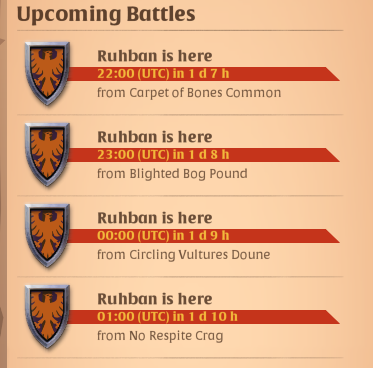 you can confirm via your database that the same person scheduling these attacks is also a nilfgaard member, if you cant you need a new system.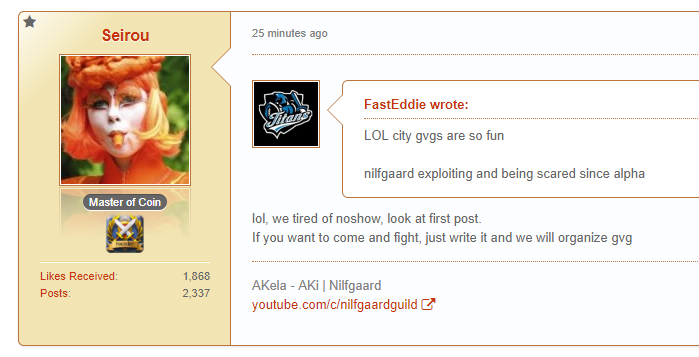 Nilfgaard member admitting to doing this, while its being called an exploit, so knowingly exploiting.
@Korn
please make this bannable or fix it, you have a system where they can close the camp, they should be using it. They should not be using an invulnerability bubble that is granted upon logging in to stop attacks. This same guild has been doing this throughout EVERY BETA, the way I see it, you either stop them or you are supporting them.